Caponata Stuffed Eggplant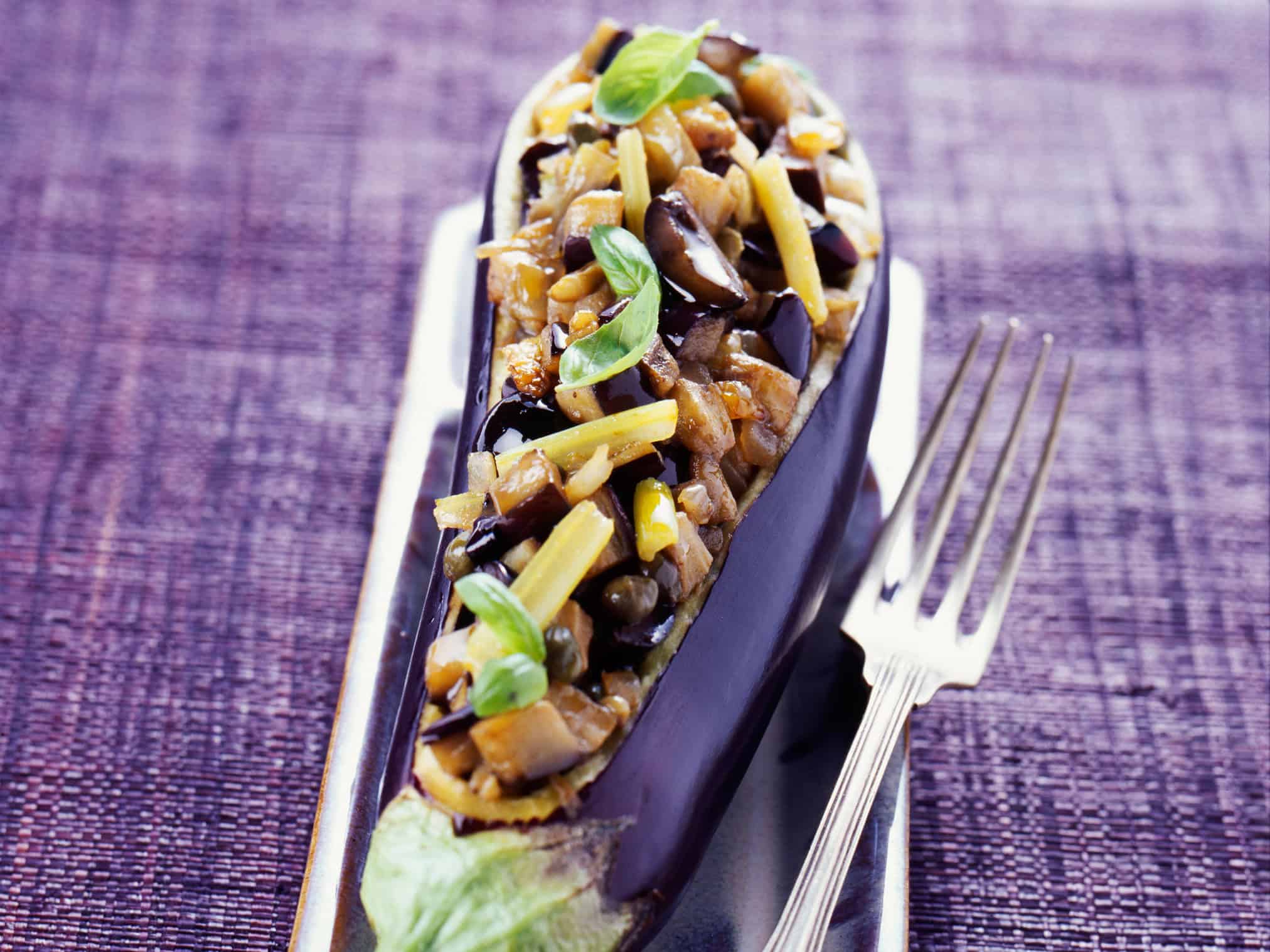 A lightly spicy Mediterranean eggplant dish with a sweet and sour Caponata stuffing. This Sicilian delicacy is vegan and goes well with pasta, rice or bread. Caponata stuffed eggplant is easily made with our Fruit & Vegetable Corer.
4 small eggplants
salt & freshly ground black pepper
8 tbs olive oil
3 stalks cellery
2 onions
50 g black olives, pitted
2 tbs capers
2-3 ts honey
2-3 ts balsamic vinegar
basil leaves, for garnishing
25 min. preparation + 30 min. cooking time
This recipe takes medium effort.
Die Auberginen waschen, abtrocknen und längs teilen. Auf der Unterseite der Auberginen-Hälften etwas Fruchtfleisch gerade abschneiden, damit sie festen Stand haben. Die Auberginen mit dem Entkerner für Obst & Gemüse aushöhlen, dabei einen 1 cm dicken Rand stehen lassen.
Salt eggplants well and let them sit for 20 minutes. Pat dry and season with black pepper.
Preheat oven to 180° C / 360° F. Brush eggplants with 2 tbs oil and bake for 20 minutes.
In the meantime wash cellery stalks, cut them lengthwise in half and slice into 2 cm / 1.5 inch pieces. Quarter the olives und cut the remoced eggplant flesh into same size cubes.
Heat 4 tbs olive oil in a pan and fry cellery, eggplant flesh and olives until lighly browned. Add capers and black pepper and cook on low flame for 10 minutes. Add honey and vinegar and check seasoning. Stuff the prebaked eggplant with that mixture, drizzle with olive oil and bake another 10 minutes.
Garnish with basil leaves and serve warm.