A matter of choice: What handle series is right for me?
Spoilt for choice… Spirit, Professional, GreenGrip or better hand riveted handles made of ABS or wood? Learn more about our series and how you find the perfect series for yourself.
Professional – for professionals and smaller hands
Our professional series is a true classic and in many aspects unchanged for many years. The handles are rather slim and compact and fit perfectly into smaller hands. They are made of special glasfibre reinforced plastic and are extraordinary strong and durable. As they do not have a hanging hole they also comply to the high hygiene standards of professional kitchens.
Another benefit: All products in this series are Made in Germany.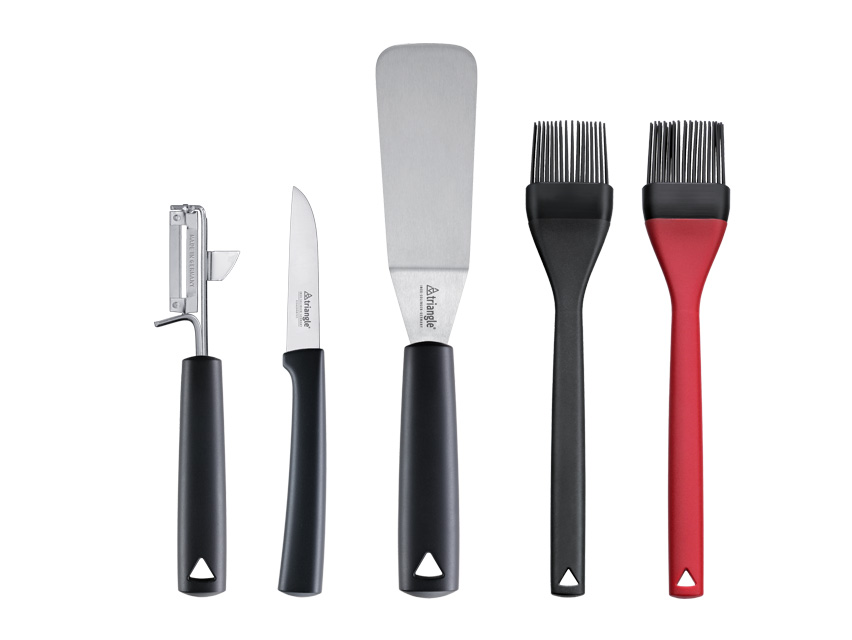 Spirit – modern design meets great quality
The Spirit line combines modern design and perfect ergonomy. The slightly thicker handles are comfortable to hold and make sure working is fatigue-free. They have a triangular hole for easy hanging. In terms of quality Spirit comes noting less than our professional line. The funktional parts are identical and the solid handles are as strong and durable.
Spirit is also the best choice if you like to have one consistent look in your kitchen. Because spatulas and knives are available in the Spirit line as well.
GreenGrip – for more sustainability
The GreenGrip range is very close to our hearts. Because it is not only green but really green.
The handles are made of an ecological plastic, which consists of more than 90% renewable raw materials and thus reduces the mineral oil consumption to a minimum. The raw plastic itself has a negative CO2 balance until it is finally processed into a kitchen tool handle. In other words, the sugarcane from which GreenGrip's raw materials are extracted has more CO2 bound during its growth than the subsequent processing to the plastic releases later. Naturally we also we pay attention to where our raw materials come from. The sugarcane plantations of our suppliers are ISCC certified and protect natural resources.
Despite their sustainable plastic, GreenGrip products are as hygienic and easy to care for as our regular kitchen helpers and can be cleaned in the dishwasher.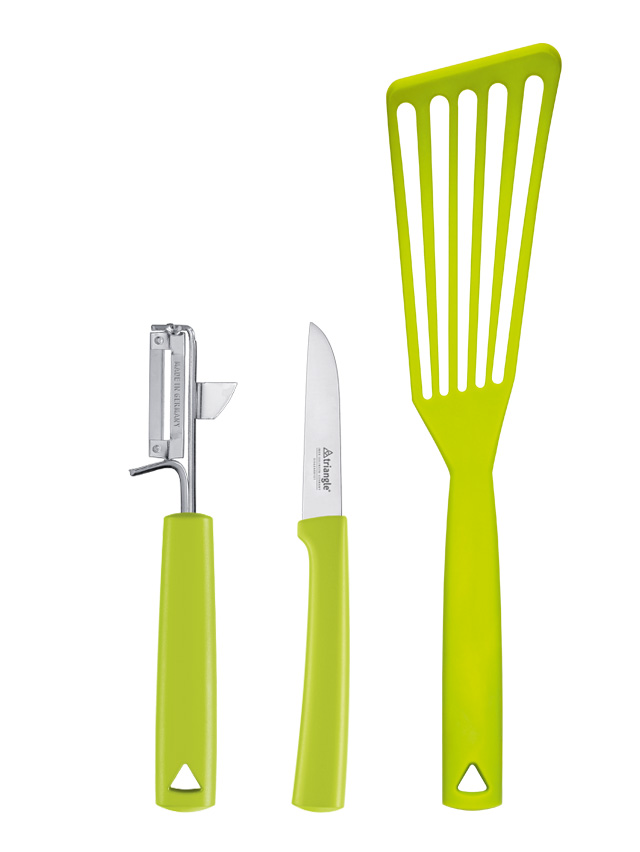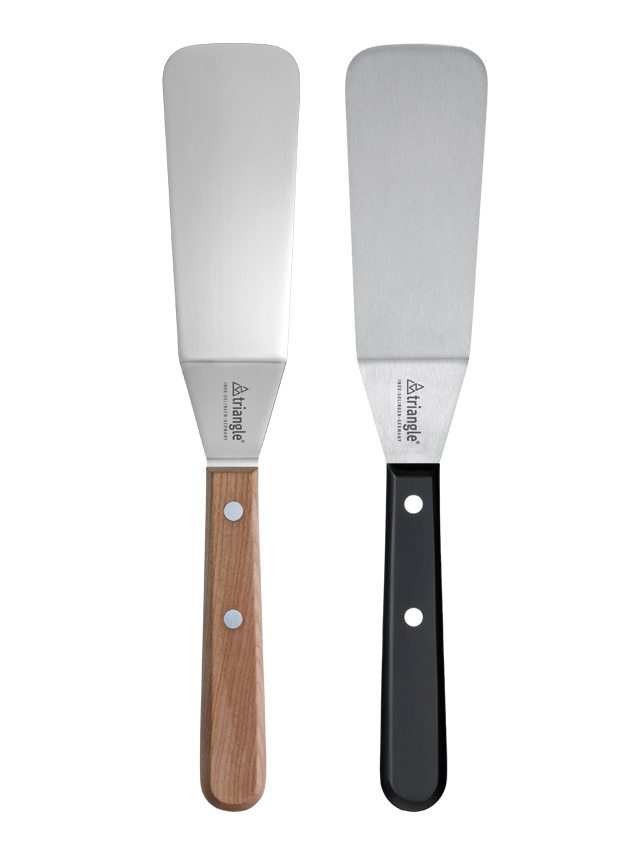 ABS or cherry tree? Hand-riveted handles according to our tradition
Spatulas and turners with riveted handles are a classic in the professional kitchen. The handle and functional part are connected by means of aluminum rivets. Afterwards the handle is smoothed and finished by hand on traditional grinding machines. The manufacturing of these spatulas and turners is associated with a lot of manual work and skill and takes place completely in our factory in Solingen.
ABS, a high-strength plastic, is the preferred material of professional chefs, as it has not only proven itself, but also meets the strict hygiene requirements. The classy appearance of the hand-riveted ABS spatulas also makes them ideal for home use.
A sustainable and especially beautiful alternative to ABS are our riveted cherry wood handles. The wood comes from German forests and has barely a tendency to swell. Therefore it remains beautiful even when occasionally in contact with water and ages beautifully. Another advantage: Wood does not melt in contact with hot barbecues and pans, making it the perfect partner on the grill. Only prolonged exposure to water should be avoided.
Hand riveted handles should never be cleaned in the dishwasher. The aggressive chemicals would attack the rivets and look and function would suffer. Those who prefer dishwasher safe spatulas should consider the Spirit range as an alternative.