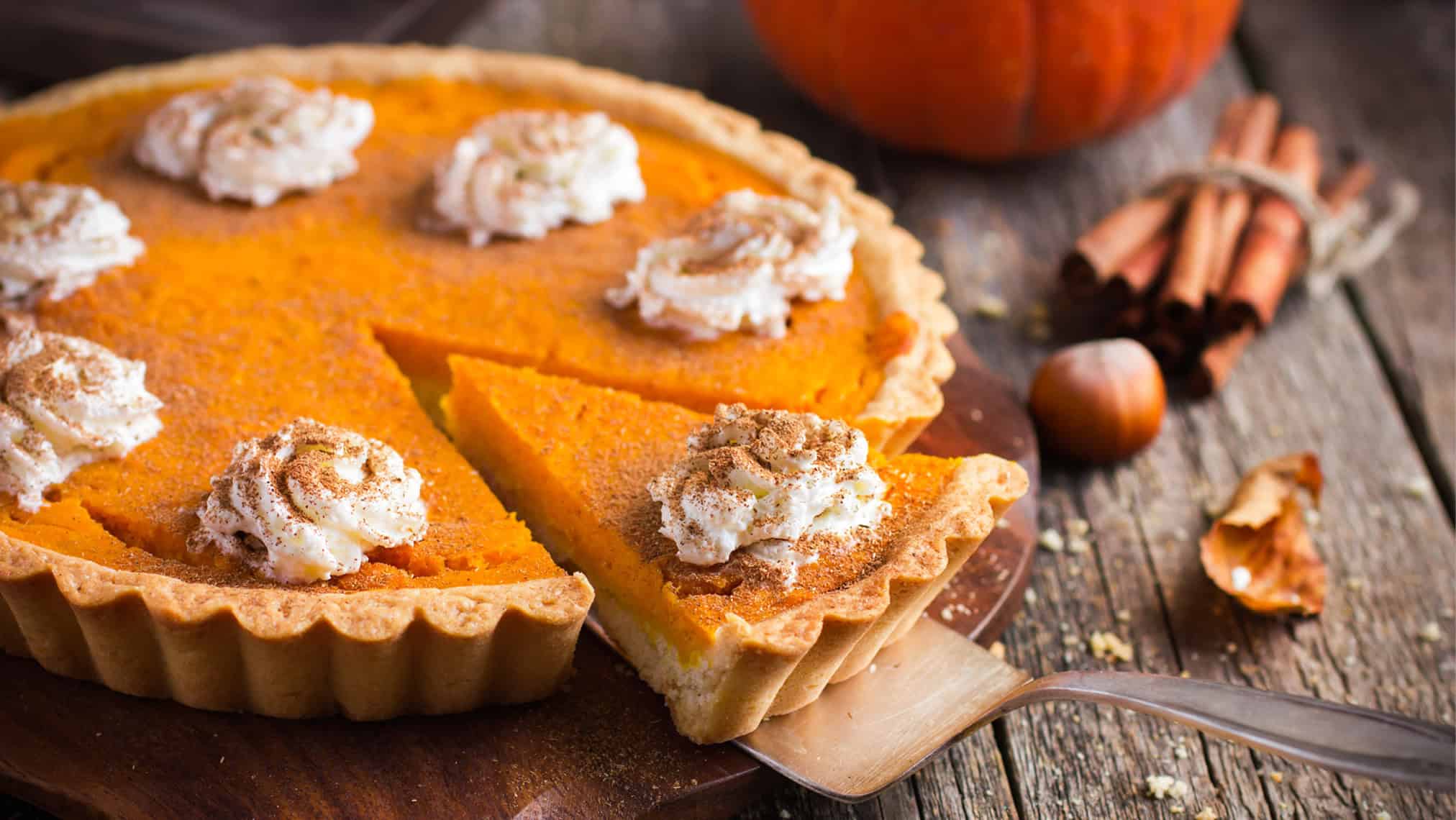 Pumpkin Pie is not very common in Germany yet but it is incredibly delicious. Its taste is reminiscent of speculoos and is definitely worth a sin with its silky-creamy filling. Especially with a scoop of walnut or vanilla ice cream.
For the dough:
200 g flour
70 g sugar, preferably brown
1 teaspoon baking powder
100 g butter
1 egg yolk
1 pinch of salt
2 tbs lemon juice
For the filling:
700 g aromatic squash or pumpkin, e.g. Red Kuri
175 g sugar, preferably brown
1 tsp cinnamon
1/2 tsp ginger, dried & ground
1 pinch of ground cloves
3 eggs
150 g cream cheese, full fat
a little butter and flour for the baking pan
60 minutes preparation + 60 – 70 minutes for baking
This recipe takes medium effort.
For the dough, mix flour, baking powder, sugar and salt in a bowl. Add the egg yolks, lemon juice and butter in small pieces and knead into a smooth dough. Wrap the dough in plastic wrap and rest it for about 30 minutes in the fridge to make it firm enough for further processing.
For the filling peel the pumpkin and cut into slices. Bake in the oven for about 45 minutes at 175 ° C / 350° F until soft and mash to a fine puree. Combine thoroughly with the remaining ingredients.
Tip 1: Red Kuri squash do not necessarily need to be peeled. But as the skin is a bit tougher than the meat, the puree with peel will have red speckles. If you want a perfect cream, you should peel it.
Tip 2: Make some extra puree. You can turn the leftovers into a great side dish with butter, salt and pepper or freeze for your next pumpkin pie.
Roll out the dough on the floured countertop to a uniform circle of about 30 cm / 12 inch in diameter.  Line a greased and floured Pie or Springform (26 cm / 10 inch) with the dough. Pierce with a fork several times.
Add the filling, smooth it out and bake the Pumpkin Pie in a preheated oven for 60 to 70 minutes.
After baking, allow the pie to rest for 10 minutes, demold and allow to cool completely until the filling becomes firm.
Serve at room temperature plain, with whipped cream or with a scoop of walnut or vanilla ice cream.
Tip: The pie becomes especially atmospheric with autumnal ornaments. Cut out leaf shaped cookies from the remaining dough and bake for about 12 minutes until golden brown. Decorate the still warm cake with it.
25,00€ – 31,50€

Inkl. MwSt.