Besan Chilla – Indian Veggie Pancakes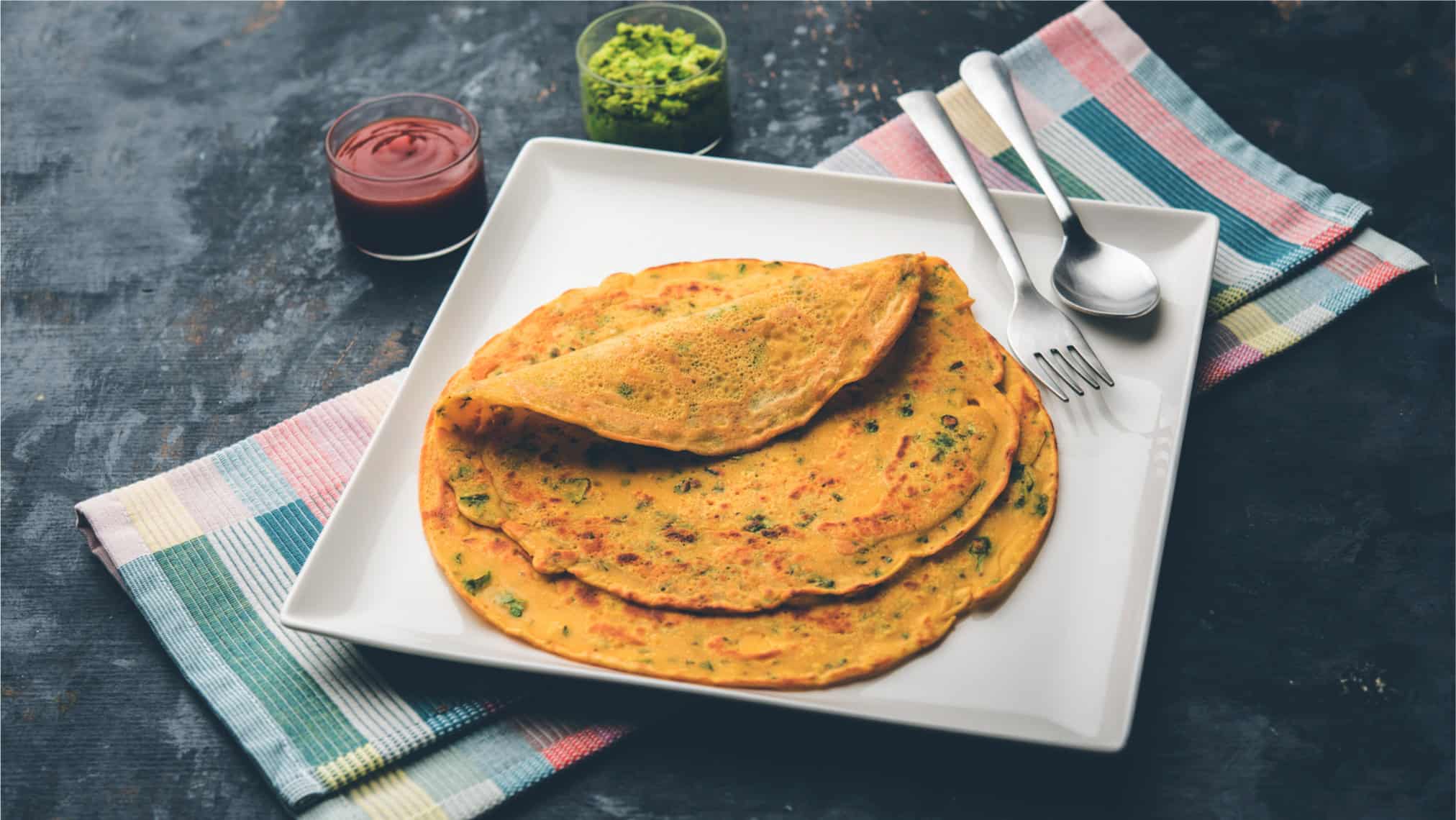 Besan Chilla are a popular breakfast dish in northern India. The spicy pancakes are quick to make and need few ingredients. They are very healthy, vegan, gluten-free and, above all, delicious. They are usually eaten warm, but are also great for picnics and lunch boxes.
150g chickpea flour ("Besan")
1 tomato
1 spring onion
1 small carrot
1 green chili
2 tbs cilantro / coriander leaves
1/2 ts chili powder (optional)
2 ts ginger, grated
salt
oil or ghee
5 minutes preparation + 10 minutes cooking time
This recipe takes little effort.
Wash herbs and vegetables. Core the tomatoes and finely chop. Finely chop the onions, peel the carrot and coarsly grate them on a grater. Core chili and finely chop. Chop coriander leaves and stems.
Tip: The smaller the vegetable cubes, the smoother and more crispy the chillas will become.
Whisk the chickpea flour in a bowl with a little water to form a thick batter. If necessary, slowly add more water until all lumps are dissolved and a medium thick batter consistency similar to pancake batter is formed. Mix in the vegetables, spices and coriander leaves.
Heat a little oil or ghee in a non-stick pan. Pour a quarter of the dough into the pan and spread out flat with a spoon to form a round pancake. Bake at medium heat until the surface looks done. Drizzle a little oil or ghee at the edges and onto the surface of the chilla. If the bottom is golden brown, turn and bake the second side until golden brown.
Bake the remaining chillas in the same way.
Besan Chilla can be served with dips like plain yogurt, tsatsiki and all kinds of Indian pickles. Traditionally, they are served with a green mint-coriander-chili chutney or with some tomato ketchup for the kids.
Enjoy!
Tip: Chillas are almost infinitely versatile. Also bell peppers, cauliflower, broccoli, onions, radish, spinach and many other vegetables work perfectly. If you like it spicier, you can add a pinch of turmeric and / or half a teaspoon of cumin seed or ajwain / carom seeds to the batter. Or add a dash of Garam Masala. The chickpea flour can be also replaced by semolina. However, the batter then must soak for at least 30 minutes before adding the vegetables.
Our product recommendations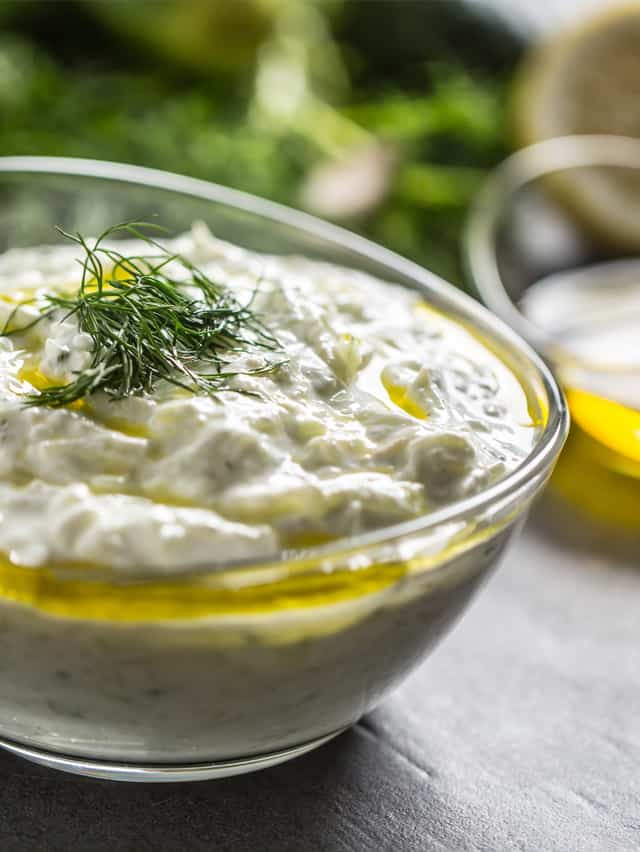 Tzatziki – the Greek classic
Cucumbers, Greek yoghurt and garlic - get the summer flavour! Tzatziki goes perfectly with meat, fish, [...]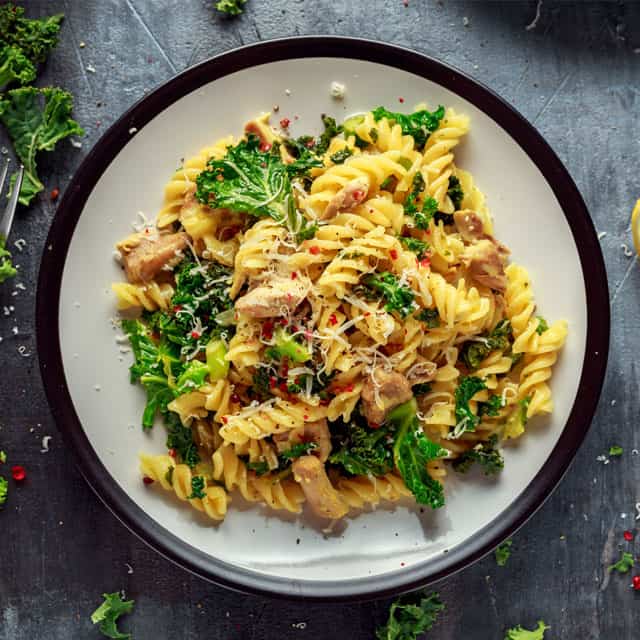 Fusilli pasta with savoy cabbage and chicken
The winter is not over yet: savoy cabbage season is still on! Savoy cabbage contains [...]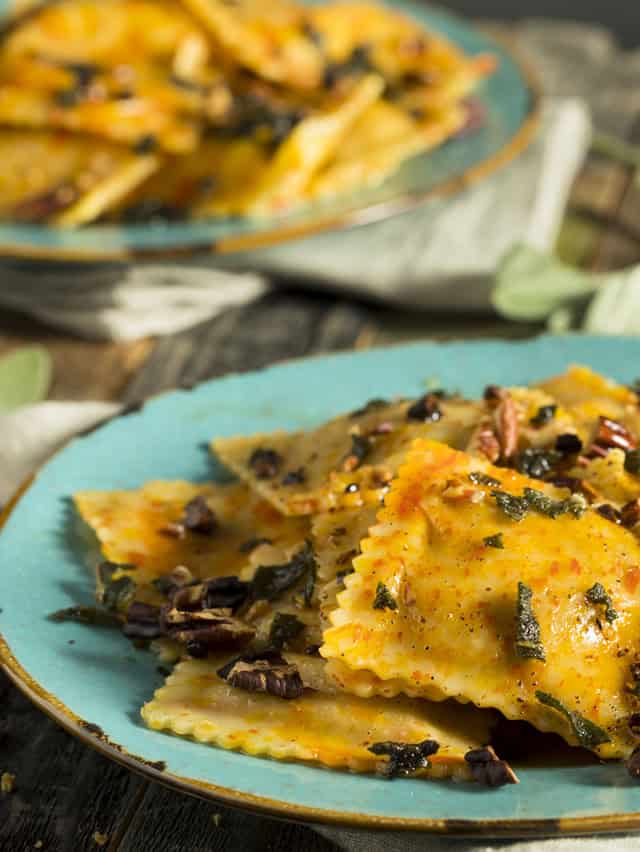 Pumpkin ravioli with sage butter and walnuts
Pumpkin season is not over yet! There are plenty of vitamins, minerals and fiber in [...]